Nadezda Azhgikhina, Journalist and Vice President of European Federation of Journalists talked about "New challenges to ethical journalism in Europe: Quality Journalism in Pandemic Time".

Key points by Ioanna Georgia Eskiadi

Journalism is a universal profession and its important to have ethical and professional standards in order to get, to disseminate and to produce the needed information. Innovation is a very important principle.






Journalism is a profession of crisis management since journalists use a power when something happens and pay attention to some dramatic moments. Journalists need the information to give it to the public. The main principle is the public interest and public good. Journalism should be transparent and independent. International journalism community began to think about reevaluation of professional and ethical standards in journalism. Different media companies try to tell the truth but the truth it's not very easy. The truth is hardly identified some times. Then is the independence since we are dependent to our national politics, to our editors, to our team and to our personal feelings. It's very difficult to be independent. Ethical principles are idealistic principles. You should choose and be honest to yourself. The economical crisis changed the situation and international organizations reported about real crisis and dramatic changes in global markets. We use to think the diversity of media landscape is our future.




Every crisis created a new definition like infotainment. The journalism that needed a lot of time and invest disappeared. Big efforts of international community are being done to support journalism and ethical standards. Journalism couldn't be independent from the political engagement and interference. Covid-19 brought a new definition: the infodemic. Technology companies are taking action, but more transparency is needed. Journalists are putting their own safety at risk, to keep the public informed. The economic impact of pandemic may pose an existential threat to journalism. There are new opportunities to stand up for journalism. Companies' actions try to do their best to combat disinformation.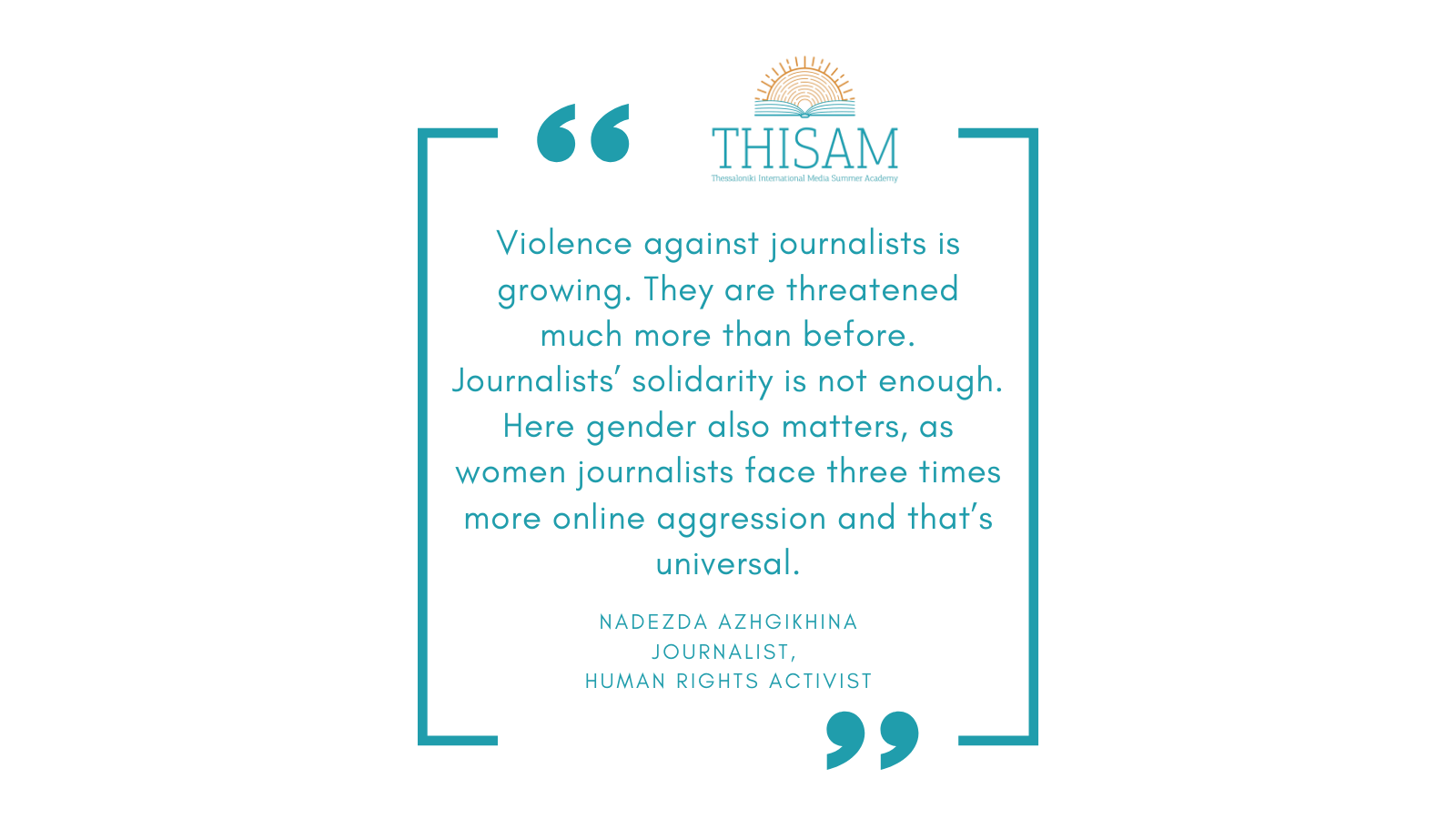 Special actions refer to content moderation, donations to fact-checkers and journalists, directing users towards official health information about the pandemic. Social media companies must do more to root out hate and harmful assertion about Covid-19. Global information environment needs more attention from international organizations and from the states. Many countries during the pandemic have implemented new regulations that restricted the work of journalists and their investigation. What is needed is to recognize journalism and focus on human rights, access and accessibility, knowledge, engagement and empowerment, transparency, solidarity and multilateral and multi-stakeholder cooperation.

About THISAM
The 5th Thessaloniki International Summer Academy on Media is organized by School of Journalism and Mass Communications of Aristotle University Thessaloniki (AUTh), Jean Monet of European Union Public Diplomacy along with other partners under the title: "New trends in Media and Journalism: Turning crisis into opportunity".

Special emphasis is given on the topics:
1. Disinformation, Science Journalism / News Literacy
2. Crisis Communication
3. New business models in Media Organisations